A lead is a contact who has taken some action on your website or through any other touchpoints, including email, social media, etc. These leads are captured and nurtured to convert them into loyal customers.
 The competition in the market is rising, and businesses are putting extra effort to generate more leads. Generating leads involves various elements and requires a well-defined strategy to attract quality leads at scale.
 A survey revealed that 65% of businesses find generating traffic and leads as their biggest marketing challenge.
This is why more and more companies are investing and adopting lead generation tools.
What Is a Lead Generation Tool?
Lead generation is the process of attracting prospects, capturing their information, and nurturing them into leads. A lead generation tool streamlines and automates the entire process of gathering, storing, and organizing contact information from various customer touchpoints.
In other words, it helps deliver relevant information at each stage of the buyer's journey. It helps move them through the journey and pushes the leads to the sales team for the final conversion.
A lead generation software acts as a central database where all the information about your contacts is stored and is easily accessible at all times. 70% of companies surveyed said that using automation technology helps them deliver better-targeted customer communication.
Depending on its functionalities, there are various types of lead generation tools, including on-page lead generation tools, email marketing tools, search marketing tools, inbound marketing tools, and much more.
Here are some of its standard features, the application of which varies from company to company.
It can be integrated with any popular CRM software, thereby storing all the contact information in the CRM database. This information can then be used for building various marketing campaigns based on leads' buying behavior and interests.
Landing Page/Form Creation
Embedding contact forms on web landing pages is one of the most common methods of capturing leads. Lead generation tools enable you to create custom forms and landing pages to collect information.
Lead generation tools are capable of collecting data from social platforms, such as Facebook, Twitter, and LinkedIn. Social media is a great place for interacting and engaging with leads.
Having the right lead generation software can help marketers effectively deliver a successful campaign. But with so many options available, how does one choose the best-suited tool for their business?
Top Lead Generation Tools to Consider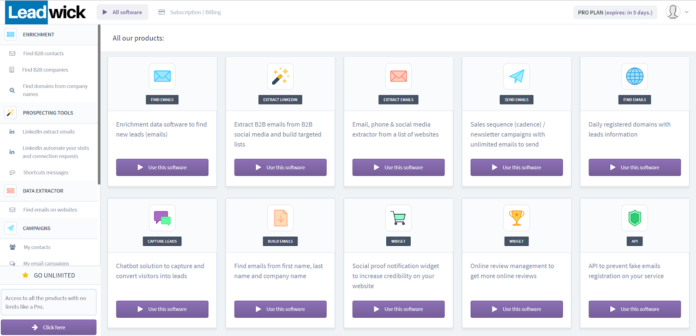 Leadwick offers a comprehensive set of tools that make it easy to reach out to other professionals through multiple channels. This leading lead generation solution is equally feasible for both small and large enterprises.
The system comes packed with ten powerful lead generation tools, including a chatbot solution, email drips, email appending, and more. It even offers LinkedIn Extractor as a Chrome extension that can be used to extract B2B emails for social media platforms and build targeted lists.
Furthermore, you can create and automate email campaigns, making it possible to reach the right prospect at the right time. You will also find an in-built library for predefined templates that can be customized.
Features
Data enrichment
Widget management
Email management
Online review management
API to safeguard your web presence
Pros
Easy-to-use and responsive dashboard
Active customer service
Pricing
Analyzer: Free
Sales Pro: $99 per month
OptinMonster is a robust lead generation application that helps you gain more subscribers and sales from existing traffic. Using its predefined templates, you can easily create a visually appealing offer for increasing conversions. It comes with a simple drag-and-drop feature, enabling a non-tech person to use the tool with ease.
What's more, it analyzes your visitors' behavioral patterns and lets you display personalized offers to the right people at the right time. You can even do A/B testing to experiment with different headlines, layouts, and content and see what's working. In short, it removes the guesswork for your businesses.
Besides, you can get various types of forms, including full-screen overlays, slide-ins, floating bards, and pop-ups.
Features
Page-level targeting
Analytics and insights
Exit-intent technology
On-site retargeting and personalization
Advanced traffic redirection
Pros
Robust and simple to use
Exceptional customer support
Cons
Dashboard loading is slow
Pricing
Basic: $9 per month
Plus: $19 per month
Pro: $29 per month
Growth: $49 per month
Unbounce is a landing page builder developed to help you convert visitors into leads. You don't need to have any prior coding knowledge to use Unbounce. With its drag-and-drop functionality, you can create and publish your own landing pages. What's more, you can add pop-ups and sticky bars to any page in just a few minutes.
What sets it apart is that it lets you trigger customized offers and target visitors who are more likely to convert. Unbounce offers conversion intelligence insights that have seen an average conversion rate lift of 20% so far. More than 15,000 marketers are using Unbounce to convert visitors into leads.
Whether you are an ecommerce or an agency, Unbounce is industry agnostic.
Features                        
Smart traffic management
A/B testing
SEO management
Customizable templates
Analytical tools
Pros
Seamless integration with third-party apps
Highly responsive
Cons
Can prove to be pricey for small businesses
Pricing
Launch: $64 per month
Optimize: $96 per month
Accelerate: $160 per month
Scale: $240 per month
ZoomInfo is a cloud-based lead generation tool that aims to accelerate your marketing funnel. It offers a feature like FormComplete, whereby it shortens the form length and automatically fills in the remaining fields when a prospect simply enters their email address.
Furthermore, its WebSights makes it possible to capture information about the visitors to your site. It provides a detailed profile for each visitor and analyzes them to help identify potential leads to follow up with. This ZoomInfo builds a contact database by filling the gaps in your own market database. In other words, it helps you score, route, and prioritize the leads efficiently.
ZoomInfo can easily integrate with your existing system, including Salesforce, Hubspot, Outreach, and more.
Features
Lead segmentation
Business intelligence
Lead workflows
Trigger automation
Data import/export
Pros
Huge database
Rich and intuitive interface
Cons
Salesforce integration seems clunky
Pricing
Hootsuite is your go-to social media marketing automation tool that helps you capture and generate leads. It is suited for both small and large enterprises. It offers automation tools that enable you to schedule your content on social media, allowing you to reach your audience at the right time.
Furthermore, it helps you segment leads based on your organic as well as paid media. You can measure conversions by social channels as well. Its reporting and analytics tools provide you with detailed insights to understand which marketing campaign is working in favor of your business.
No wonder Hootsuite is one of the widely used platforms — with more than 16 million people using it worldwide.
Features
Contact management
Content management
Keyword filtering
Multi-account management
Customer targeting
Pros
Easy to navigate
Reliable and active customer support
Cons
Some users experienced glitches with auto-publishing
Pricing
Professional: $19 per month
Team: $99 per month
Business: $599 per month
Drift is a popular sales tool that helps businesses capture more leads by enabling real-time communication with every visitor. It offers a wide range of functionalities that allows sales teams to create their pipeline and accelerate the entire marketing process.
When a user visits your site, Drift enables you to personalize their experience in just a few simple clicks. It allows you to customize messaging that aligns with your specific campaigns. Besides, it even sends out alerts every time a target account is on your site, allowing you to improve their browsing experience.
Some of the top companies using Drift are GitHub, Outreach, TIBC, tenable, and many more.
Features
AI-driven chatbots
Workflow automation
Customizable branding
Geo-targeting
Offline forms
Pros
Smooth third-party integrations
Responsive and easy to navigate
Cons
Detailed guides are missing
Pricing
Prospect.io is a sales automation platform that streamlines and automates the entire process of lead generation. It comes well-equipped with various functionalities, including lead management, contact management, and much more.
It accelerates your lead generation efforts by allowing you to build email lists and campaigns with a full reporting system. You can personalize your email marketing campaign and integrate prospects' first name, last name, company name, and any other information at scale.
Using its reporting tools, you can easily measure the ROI and analyze strategies generating more leads. In fact, it also has a Chrome extension designed to help users find email addresses. More than 1,300+ companies use Prospect.io, including AdRoll, Asana, Teamleader, etc.
Features
Proposal management
Goals management
Email finder
Workflow automation
Pipeline management
Pros
High-powered analytics interface
Seamless integration with third-party apps
Cons
Customer service needs improvement
Pricing
Essential: $89 per month
Business: $149 per month
Marketo Engage is your go-to marketing automation tool that is rich in features. For starters, it gives you a complete 360-degree view of each prospect across the web, email, social media, and other touchpoints. Based on their interests and behavior, it helps you design a full-proof marketing campaign that will help generate leads.
One unique thing about it is that it enables you to create relevant conversations based on every individual's real-time behavior. This gives them a personalized experience, increasing the chances of conversion.
What's more, you can measure the ROI of every campaign with its in-depth reporting module. As a lead management solution, Marketo Engage helps you develop and qualify potential leads before they are passed down in the sales pipeline.
Features
Content personalization
Experience automation
Plug and play integrations
Marketing impact analytics
Predictive content
Pros
Responsive dashboard
Highly flexible and scalable
Cons
Pricing
Leadfeeder is a lead generation software that enables you to track your website visitors. It offers a robust set of tools for lead generation management, including lead scoring, automatic reporting, and lead filter. The system automatically prioritizes your lead based on what they do on your site. By placing the hottest lead on the top, it ensures that you or your sales reps focus only on quality leads.
Moreover, it improves lead accuracy by filtering out bots, ISPs, and other traffic sources that prevent you from having quality leads. Once the visitors' information is captured, it is automatically sent to the CRM database where all the contact information is stored. It then analyzes them to help identify leads and instantly notifies the sales reps.
Features
Contact database
Lead segmentation & nurturing
Lead verification/validation
Pipeline management
Reporting
Pros
Information accuracy
Easy integration
Cons
Pricing
Lite: Free
Premium: Starts at $55 per month
Sumo is one of the most popular marketing tools that help you build email lists and increase conversion on your site. It is quite useful for ecommerce business owners as it allows them to create proven marketing strategies in a matter of a few minutes. It works seamlessly with eCommerce platforms like Shopify, WordPress, and Google Tag Manager.
More than 37,000 eCommerce stores use Sumo to generate leads, including Tony Robbins, Pistol Lakes, and theCHIVE. Further, it gives you the option for a floating social share bar on your site.
Features
Heatmap technology
Promotion management
Inbuilt library for email templates
Campaign management
Pop-up management
Pros
Easy customization
Incorporates pop-ups by just adding a script
Cons
The free version has minimal functionalities
Pricing
There are various ways of generating leads, such as email marketing, landing pages, contact forms, social media, and much more.
Every lead generation tool specializes in different fields, and the chances are less that you would use each one of them. So, the best approach is to let your business goals guide you in choosing the software that perfectly fits your requirements.
So tell us, which one of these lead generation tools are you planning to use?